The Sunset Grill Restaurant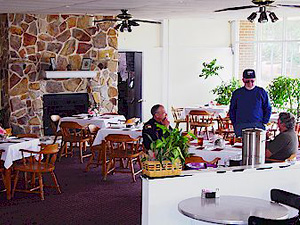 We cordially invite you to dine & relax after your round of golf in The Sunset Grill Restaurant, with a refreshing drink at our bar and a beautiful view of the lake. Our food is prepared in-house by the chefs of Coastal Catering & Events, the exclusive caterers for The Lakes.
About Coastal Catering & Events
Their reputation speaks for itself. They create exquisitely prepared foods, finely orchestrated event productions, and have a staff attitude built around pleasing our patrons. The Executive Chef, Joe Caldropoli, is an extremely talented chef who truly understands food & service. Joe's goal is to create beautiful, delicious dishes and amazing presentations. Every course Joe plans packs a "wow" factor, and one of his favorite things about this business is being able to develop new menus that continue to satisfy dining guests.
For more information, please visit Coastal Catering's full website by clicking the link below: